Publishers: Aurum Press & Quarto Publishing Group
Aurum Press: The UK publisher of Breaking the Jump. For any sales enquiries please contact
lucy.warburton@aurumpress.co.uk
For any queries regarding North American sales please contact lydia.finn@quartous.com
Breaking the Jump is part coming-of-age-story and part social history of exercise with a dash of memoir about my own improbable discovery of the beauty and wonder of movement for movement's sake. It is the story of a fringe culture written for the mainstream. It charts the trajectory of nine youths from the Paris ghettos who start out going nowhere fast, and end up as international sports heroes with superhuman athletic abilities. Along the way their uncanny adventure draws in Hong Kong action movies; obscure 19th century sporting cults, award- winning stage shows, the world of Japanese Animation; the Vietnam war, and the history of postwar architectural movements, to name a few. It may seem complicated, but at its core Breaking the Jump is a simple tale about the desire to move.
Here are a few things people had to say about it so far:
"Julie Angel's brilliant insight into Parkour is the reason it first began to fascinate me. I've devoured her films, and it made me hungry for a book about the origins of this strange, secret art. I couldn't understand why no one had written it — and then I realized it could only be done by someone with Julie Angel's personal access and penetrating intelligence. I can't wait to plunge into it."
Christopher McDougall, author of Born to Run and Natural Born Heroes
***
"Julie takes a scalpel to the possibility of Parkour, its place in time and history, and her own initial resistance (and ultimate submission) to the discipline, slices it clean down the middle and exposes the nerve that connects mind to body to soul to world. This personal account of her own journey of discovery made even me want to try the freedom enjoyed in the movement of others I've observed for so long -and perhaps thanks to Julie I might just finally do that…"
Mike Christie (Director of the acclaimed documentaries  Jump London, Jump Britain & Concrete Circus)
***
"It's full of rarely disclosed information and anecdotes about the origins of Parkour and its founders. The research is extensive and the tone is always inviting, entertainingly painting the picture of a game that grew to become an art shared by tens of thousands. I particularly enjoy the slight cheekiness of the tone, it's relaxed, full of images to paint the picture of what you're talking about. Easy to read and yet always informative, and it instores a very enjoyable connection with the reader, as if they were a buddy of yours. I think you nailed it. Now I really want to know what's going to happen next !"
Thomas Couetdic
***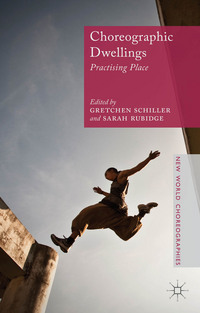 Choreographic Dwellings-Kinaesthetic Topologies
Available August 2014
Hardcover (240 pages)
I will be contributing a chapter on parkour to the forthcoming publication:
Choreographic Dwellings will be part of New World Choreographies Series (launched 2014) "The series NEW WORLD CHOREOGRAPHIES presents advanced yet accessible studies of a rich field of new choreographic work which is embedded in the global, transnational and intermedial context of the present. It introduces artists, companies and scholars who contribute to the conceptual and technological rethinking of what constitutes movement, blurring old boundaries between dance, theatre and performance. The series considers new aesthetics and new contexts of production and presentation, and discusses the multi-sensory, collaborative and transformative potential of these new world choreographies."
Publisher: Palgrave
***
Ciné Parkour: a cinematic and theoretical contribution to the understanding of the practice of parkour.
The book is the written academic thesis for the world's first parkour themed PhD ;
Self-published. Available on Amazon.
Contents include:
1- the history and origins of parkour (the who, what, when and why)
2- making films and documenting movement (different approaches to representation and documentary filmmaking)
3- theorising parkour (describing what parkour is about in terms of the physical, social, emotional, spatial and political)
4- the 'parkour paradox' i.e. parkour as a 'sport' and as a 'performance'.
Reviews
"I'd recomand everyone to buy and read this book. If you ever want to read a book, read this book. It's as close to the real deal as you can get. Totally free from the sometimes biased  information you find at wikipedia lol. Describes how parkour evolved in a scientific way, it describes many of the founders and their thoughts, it describes the Urban Freeflow-period in the community, and other people like Dan, Steph etc."
"Cine Parkour (the book and the movie) is the result of Julie Angel's 7-year PhD film documentary. She interviewed almost all of the people who contributed to the organization of Parkour to find out not just how parkour came to be, but also WHY. You won't find this anywhere else. I'm 60 pages in, and I'm already fascinated." John George 'JG'
***
DVDs
A PARKOUR WORLD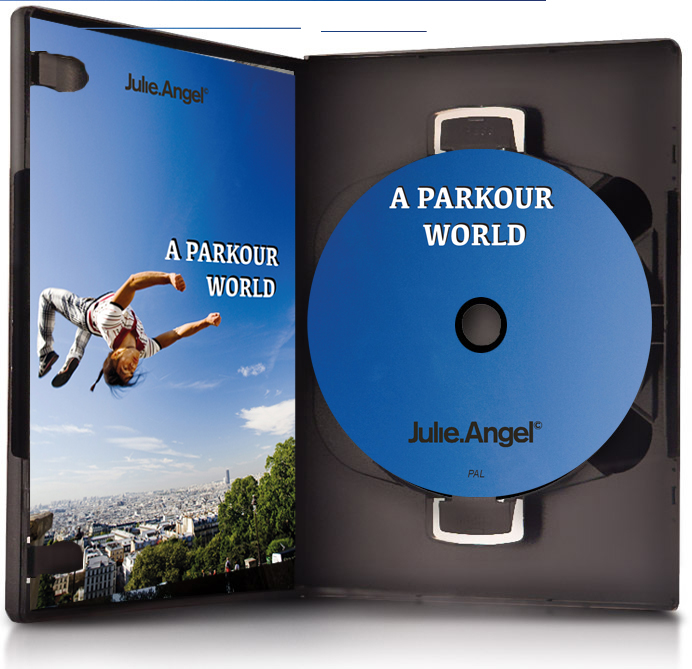 Parkour training, events and adventures from Europe, Asia and America from Parkour Generations, the Yamakasi founders and some of the most respected practitioners of the discipline.
The DVD contains the following films:
Events:
An American Rendezvous
Eat, Sleep, Train in Denmark
A London RendezVous
Idraet:Women training in Denmark
Parkour in Nicaragua
Training:
Chau Belle: warm-up
Williams Belle: Back to Basics
Williams Belle: Conditioning
Parkour Generations and the Yamakasi founders training in Paris.
Adventures:
A London Parkour Marathon
Parkour in Bangkok: simple pleasures
Extras:
Q & A with the Yamakasi founders and Parkour Generations at the American Rendezvous 2010.
Format: PAL
Region: All Regions
Number of discs: 1
DVD Release Date: July 24, 2012
Run Time: 142 minutes, $24.99
Buy the dvd here.
***
ENROUTE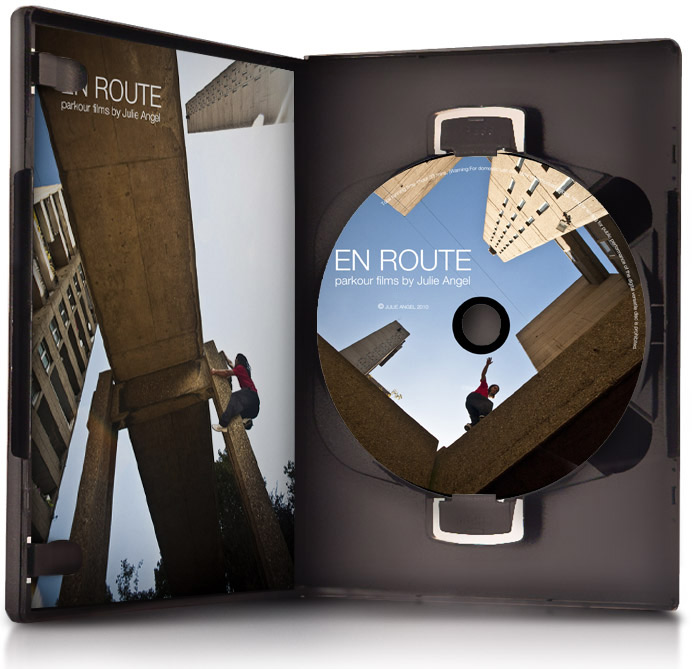 ENROUTE, PARKOUR FILMS BY JULIE ANGEL
En route is a collection of parkour films made by Julie Angel and various athletes and artists from Parkour Generations, the largest collection of the most experienced parkour practitioners in the world. The films explore and express the physicality, risk, fear, mind set, and motivations for parkour. Documentaries, interviews and beautiful action, the films were created as part of Julie's PhD creative research into the art and discipline of parkour, providing useful insights for anyone interested in parkour, for practitioners and spectators alike.The films feature Stephane Vigroux, Yann Hnautra, Thomas Couetdic, Forrest, Dan Edwardes, Kazuma and many more.
Format: PAL
Region: All Regions
Studio: Julie Angel films
DVD Release Date: September 21, 2010
Run Time: 93 minutes, $24.99
Buy the dvd here.
***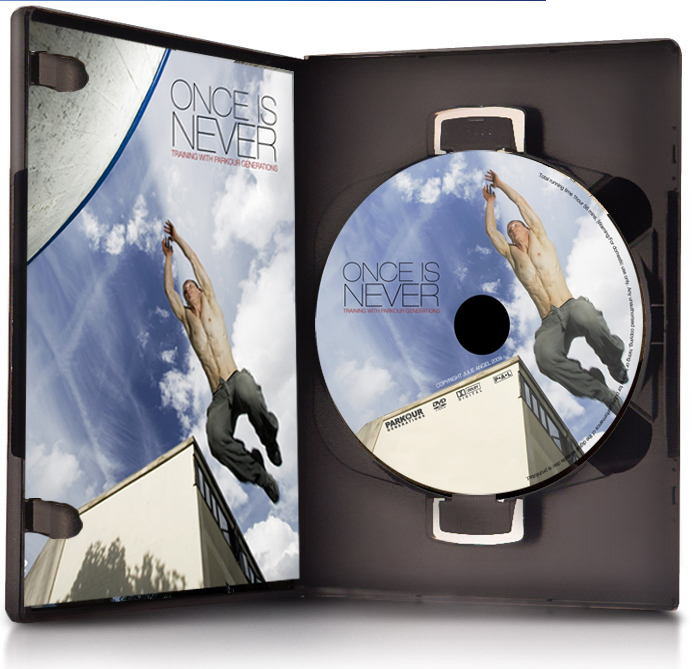 ONCE IS NEVER: TRAINING WITH PARKOUR GENERATIONS
DVD Featuring various training seminars with Parkour Generations in America, the UK and France.:
NEW YORK: Seminar in Central Park
OHIO: USA Memorial Weekend Seminar
RENDEZVOUS: The first three international gatherings in London.
SARCELLES: Training in one of the birthplaces of the art in France.
Format: PAL
Region: All Regions
DVD Release Date: December 21, 2009
Run Time: 116 minutes $24.99
Buy the dvd here.