Age is not an obstacle for these 4 women all aged over 65 who train trapeze at their weekly class in Ojai, California. It's a normal thing for them to do. They train weekly, get stronger, build muscle and enjoy themselves. They move because it feels good to move! Movement of Bones is a new short film by Julie Angel, founder of See&Do.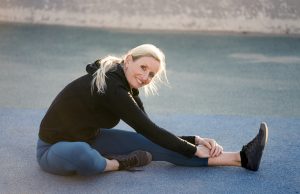 I'm very proud to be an ambassador for Merrell after working on one of their shoots as a natural movement coach in Malibu in December last year. Click on the image or text to see the blog I wrote about some ideas on how and where we move.
There are many things in life that we know we should do but somehow we don't always get around to or aren't consistent with – eating more green veggies, moving more regularly, getting stronger, creating an environment that supports a positive mindset through our habits and daily routines etc. However, these basics that we can intellectualise and agree on are sometimes hard to shift from the 'knowing' to the 'doing'.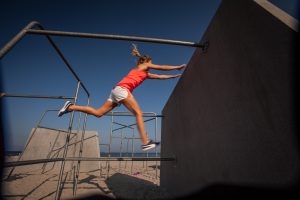 I am in the 4th decade of my life and it's a great place to be. Not because "40 is the new 30, and soon 50 will be the new 40" or any other click bait headlines that appeal to our existing ageist notions of what it means to be young or old, but because I get to share experiences with those both older and younger on a regular basis.
"Julie Angel is a British filmmaker, artist, academic and writer. After finding Parkour, Julie became interested in the idea of movement and free-running, making it the focus of her PhD and setting up the movement group See&Do.
Lets know her story more closely as she catches up with Namita Nayyar, President Women Fitness.
What we do today impacts what we are capable of tomorrow and the days, weeks, months and years after that.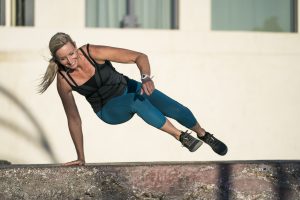 "Let's Play exhibition" Danish Architecture Centre, Copenhagen, Sept. 7th 2016
How we interpret and interact with the physical world around us is the result of how we think and that affects what we do. How we learn to use our bodies is a way of becoming members of society. Tradition lets us know what is appro­priate in terms of our status, age and gender, but tradition isn't always good for equality or health. All of this is transmitted across generations to make these mechanisms seem 'normal', eventually entering the realm of 'natural', but they are not.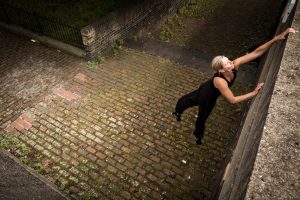 MPORA Sept. Style Issue 2016
"Beyond the physical benefits of Parkour, it will also empower and liberate you in ways that you never expected. The city becomes yours, a personal training ground as you explore and venture into less celebrated urban spaces. Adventures in a low level urban terrain can keep you addicted for years. Where once you would have walked past railings, now you evaluate them in terms of height, stability, width at the top, and the drop on the other side.  Architecture stays the same; what has changed is your joy and appreciation of it."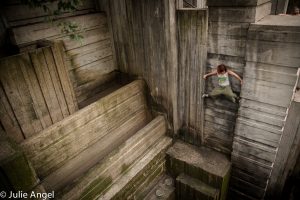 The importance of breaking habits and how they can age you.
Read the full post HERE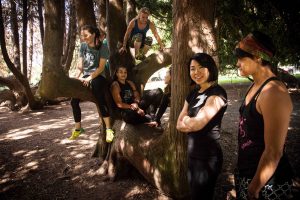 One afternoon, one park, many trees and many athletes. Women see Women Do Women Move. See&Do!
Read the full post HERE.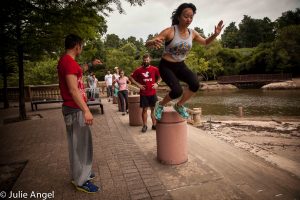 How to encourage and broaden participation.
Read the full post HERE.

– See & Do
19th September, 2014
Parkour athletes Fizz Hood and Katie McDonald feature in the short film 'Chasing Light' by Claudiu Voicu. Watch on YouTube HERE.
Why no boys?
8th September, 2014
Creating the playing fields of our time. Women See Women Do. An interesting article from Glasgow Parkour discussing some of their reasons for enjoying and creating a space where the women train together.
UPPSALA PARKOUR GIRLS GATHERING
25th August, 2014
Women See Women Do. Creating the playing fields of our time. The 5th annual parkour girls gathering in Uppsala, Sweden.
 2014, Elle Coleman, The People of Parkour
Architecture student Elle Coleman discusses how and why she fell in love with parkour. Watch on YouTube HERE.

– Artists, Punks and Climbers: Dr. Julie Angel Interview
7th October, 2013


Who are you? My name is Julie. I'm an independent filmmaker, which means that I generally make films that I want to make. What about? Over the last nine years the starting point for most films has been parkour, which was a part of a practice based PhD project.[…]

– See & Do
September, 2013
Creating the playing field of our times.This project has been inspired by 2 events and 2 people:Visual Anthropologist, climber, and friend Zofia Reych began a blog a while ago – 'Up That Rock'. As part of this she was regularly posting photos of women climbing on her facebook group 'Girls Go Climbing Strong'.[…]

– Manhood Parkour, a Quick Response to Parkour, Masculinity, and the City by Jeffrey L. Kidder, Sociology of Sport Journal, 2013, 30, 1-23;
6th June, 2013
Firstly, I think it is a really good thing that researchers are looking at various aspects of the culture of parkour. Not all research produced will be the positive propoganda that some of the parkour community want, but that is not the most important issue and does not make it a bad thing. […]

– A Parkour Ph.D;
20th June, 2011
For the past six years a group of select people who are now my friends have been putting up with me and my camera. We made films and I listened, learnt and did a lot of thinking. I spent around a year and a half writing about it all and coming to some conclusions. […]

– The Positive Potential: PK 4 Life;
3rd April, 2011
So, we saw in the last blog (Catch 22, it's beautiful because…) that parkour is a training method and a way of seeing opportunities for movement, parkour IS the means and the end. This describes it, but it doesn't help to understand it. […]

– Catch 22, it's beautiful because…
26th February, 2011
My research adventures began in London, September 2004. I didn't know who, what or how to film parkour but wanted to understand the 'everyday', the essence and spirit of the practise. I aimed to do this by making documentaries. […]

– Parkour research, the why and how story so far…
27th September, 2010
I was neither an anthropologist nor an academic, I was a filmmaker who didn't fit comfortably into the commercial thrust of broadcast media and who was losing the will to live from making educational and training videos, albeit to fund other more interesting and self-initiated creative projects. […]

– Sébastien Foucan by Julie Angel;
30th October, 2010
Sébastien Foucan is probably the world's best-known freerunner after starring in the opening chase sequence of the Bond film, 'Casino Royale'. His story began in the Parisian suburb of Lisses when as a teenager a mutual friend (Frederick Hnautra) introduced him to David Belle. […]